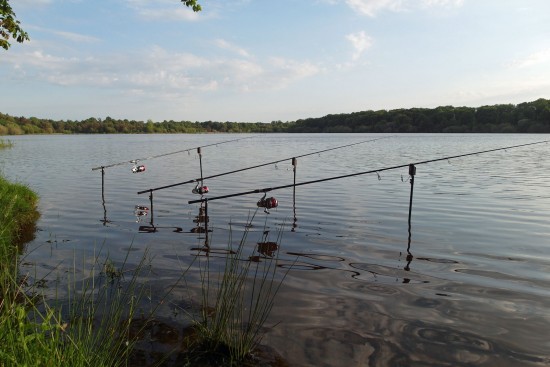 France is one of the world's greatest fishing destinations and it's not surprising when you see the variety of fishing experiences you can go for: from sea to ocean and from rivers to lakes. With so much choice of types and locations for your fishing holidays, here are 5 factors you need to take into consideration before going fishing in France.
1. Public lake, river or private venue?
One of the first decisions you need to make if you are planning a fishing trip to France is whether to go to a public lake, river or a private venue. That decision will depend mainly on how adventurous you feel, what comfort levels you need and your budget. Public lakes will be the cheapest option. You'll find them in most towns or villages throughout France and many are stocked with carp. You'll need a permit to fish them (see below) but that's easy to get online. Some of them will be located near campsites giving you access to facilities.
If you're fishing for other species than carp, there will be limits to the quantity and size of fish that can be taken away. Fishing lakes are managed at a very local level so the rules will be different on each one and can easily be found on a sign by the lake.  Fishing for carp on public lakes varies greatly and the hardest part of your fishing trip will be to find useful information on stock levels, lake features or accessibility. If you can speak some French, you'll be able to find some information on the internet but it's usually quite limited. As is often the case, being able to get information from the locals and by touring the area yourself is the best way, although very time consuming!
Fishing the rivers can be the most exhilarating type of fishing. You are spoilt for choice in terms of location because there are so many across France. Rivers attract those anglers looking for a truly wild fishing adventure. You'll need to plan your trip very carefully, get the right tackle and expect the unexpected! Private venues are the best option to experience some of the best stocked lakes in France. They are professionally managed by fishery owners or bailiffs and will offer a range of facilities that will make your stay comfortable and safe. As many of them are British owned, there is no language barrier to deal with. There are many types of venues to choose from and more on that below.
2. Fishing permits
For all public lakes and waters, you will need to get yourself a fishing permit. You can buy your license from a tobacconist or tackle shop near your chosen lake or get it online at cartedepeche.fr. The site is available in English and will also give you information on the fishing areas available in each "departement" (depending on the area, some of that information has not been translated). There are different types of permits available depending on the length of your stay, currently a weekly permit will cost €32. The permit is issued personally, and it requires photo identification on it.
3. Picking the right time of year
The fishing season depends on the type of water. On private lakes, fishing is usually available from April to October with some venues opening all year round. On public venues, it will depend on the water category. In the more oxygenated waters, called première catégorie which contain primarily trout, fishing is permitted from the second Saturday in March to the third Saturday in September. The less free flowing waters are called seconde catégorie and include all other watercourses, canals and stretches of water containing mainly carp, pike, zander, etc. There, the season normally runs from 1 May to 31 January of the following year. In either case, you can only fish from ½ hour before sunrise and up to ½ hour after sunset. Your fishing permit allows you to fish both categories of waters.
4. Night fishing
You will have to be very careful if you want to go night fishing on the rivers. The night fishing sections called secteurs de nuit are rare but they do exist. Make sure you comply with the limits that are allowed as all waters are policed. On most private venues, night fishing is allowed and no permits are required.
5. Pick the right venue
If you are choosing a private venue, you will again have lots of choice from drive and survive lakes to fully inclusive holidays with luxury accommodation. To find the right venue for you, you need to consider things like:
How far you are willing to travel: this will have an impact on your fuel/toll costs
Who is coming with you: are you going on your own, with other anglers or with non-anglers as well who will need their home comforts
What type of fishing are you after: are you after a specific target-weight fish or do you want a holiday with a bit of fishing on the side
How much privacy do you want: if you want total peace and tranquility, you need to book an exclusive venue; if you book a large commercial venue, be prepared for a daily chat with the bailiff!
What will you eat: some venues offer food packages while others provide self-catering accommodation.
Matt Collins, Beausoleil Carp and Cats. All photos taken by Matt Collins.
FrenchEntrée can help you find holiday cottages, villas, gîtes, chalets, and apartments for rental in France. Choose from our stunning range of holiday rentals in France.