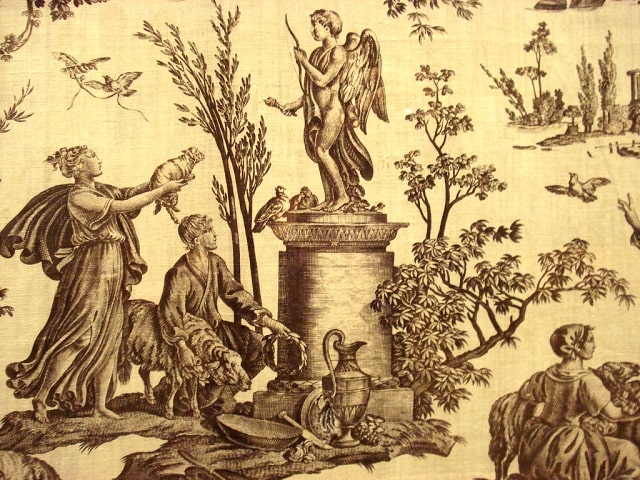 In the world of French fabrics, there's something quite intriguing about the phrase 'Toile de Jouy'. There are so many different designs to be found on the cushions, curtains, plates, wallpaper, etc. that are attributed to it. But what does it mean and where does it come from?
In Europe, the story began in the XVIIth century when flower and animal printed textiles were first imported from India. They proved so popular that they became a threat to the already established cloth and silk factories in France, so much so that in 1686 Louis XIV banned them – both the imported and the home produced ones.
In 1759 however the ban was lifted and in 1760 Christophe-Philippe Oberkampf established a factory for printing cotton materials in the village of Jouy-en-Josas, a little village near Versailles, South West of Paris. Up until 1770 it produced 'Indiennes'. These were wood block prints of multicoloured floral and botanical designs that were mainly used for clothing.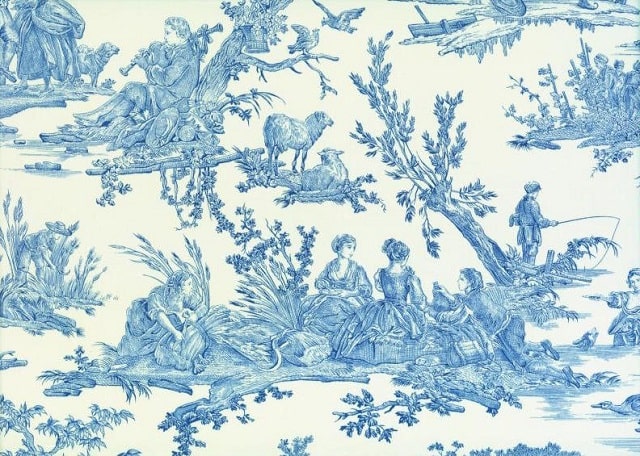 From 1770 monochrome copper plated patterns, mainly used for furnishings were produced and in 1797 by using copper rollers, the factory was able to print many geometric shapes and figures. These were mainly inspired by antiquity and mythology. The quality was so outstanding that the factory became known as one of the best in Europe. This success unfortunately was not to last and in 1843 the company was declared bankrupt. Today more than 30,000 original 'Toile de Jouy' designs are still in existence.
A small piece of toile can go a long way when trying to create a French country look. Placed in an antique picture frame, it could bring some French charm to an otherwise plain wall. A couple of toile covered cushions could add a new dimension when placed on an armchair, sofa or chaise longue.
A beautifully made bed with crisp white sheets topped with a pink or blue toile throw will give the effect of effortless chic or an armoire neatly stacked with different patterned linens would in my mind be incomplete without a touch of 'Toile'. Of course real fans can find just about any item they choose. I think that my favourite has to be a thick squidgy quilt covered in very pale pink 'Toile De Jouy' – or should I just say 'Toile'?
With thanks to the Museum of Toile de Jouy
Ann Horne is an interior stylist and long-time FrenchEntrée contributor.
She runs Frenchicandshabby, a site created to find beautiful French style furniture, furnishings and accessories for the home.
Image credits: Musée de la Toile de Jouy/Marilane Borges