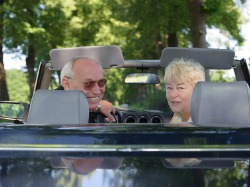 The European Directive states that the driving licences of EU member states are valid in other EU countries. This means that you can keep your UK licence until you are 70 years old and drive in France. By comparison, French driving licences are issued for life.
After reaching that age the UK authorities consider health is likely to deteriorate in ways that could affect safe driving, therefore, licences are renewable for a maximum of three years. At each subsequent renewal, applicants are required to declare any relevant medical condition that would impair their ability to drive safely including meeting the statutory eyesight standard.
Remember, The Driver and Vehicle Licensing Agency (DVLA) says that drivers of any age may develop a condition which could affect their ability to drive safely. for this reason all drivers regardless of age, are required by law to notify them if such a condition develops or worsens.
They go on to say that they are not able to issue new UK licences for drivers resident in France with a French address on it even for drivers under 70. If, when you reach 70 and wish to continue to drive then you must apply to the French authorities at your local prefecture for a French licence which lasts for life.
If a UK licence is sent back to the DVLA with a note explaining that the holder has moved to France they will take note of this and will return it with a covering letter which clarifies the holder's situation to any relevant French authority.
If the licence holder returns to the UK to become a resident they will be legally required to inform the DVLA of the new change of address. Thus, your UK licence does not become invalid due to the fact that you cannot provide an up-to-date UK address.