Eiffel Tower Inaugurates New Glass Floor Platform
The Mayor of Paris officially cut the ribbon today on the improvements made to the first floor in the most visited monument in the world: the Tour Eiffel. The main feature is a transparent viewing panel – look away now if you're scared of heights.
The Eiffel Tower needs no introduction. Since it's opening in 1889, it has increasingly become a magnet for visitors, welcoming over 250 million people in its long history, making it a highly lucrative tourist attraction with €73 million in gross revenue generated in 2013*.
As reported by France 3, the new first floor is now a new and improved visitor area meant to provide a cherry-on-the cake experience at the end of the tour. It has new pavilions built with an environmentally friendly approach using solar panels and rain-water reuse, an improved museum experience and full accessibilty for people with reduced mobility.
The floor around the central opening has been replaced by a glass plate, about 2-meters wide, allowing visitors to get their adrenaline flowing by looking down at the ground 57 meters below. That's high enough to get tourists crying out for the maman!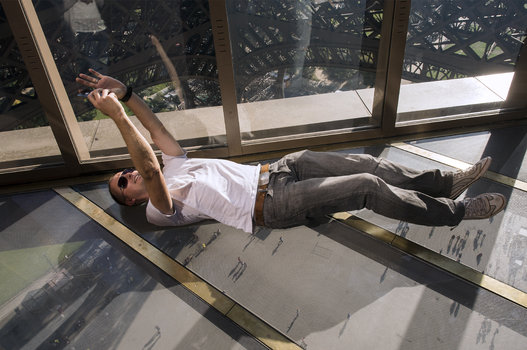 Ready for more after your visit to the Tour Eiffel? Here's how to spend 48 hours in Paris.
•Source France 3 Région
Share to: Facebook Twitter LinkedIn Email
More in events, history, paris, people, tourism, travel
---
---
Leave a reply
Your email address will not be published. Required fields are marked *