And Now for the Real Saint Valentine…Drumroll…
Yes, there's a real Saint-Valentine and it's in the land of romance and flirtation…in France…where else? With a "lover's garden", a "wish tree" and "love post office" this village in the Indre region has found its way to our hearts.
Valentine's Day is not just in February anymore. In this village near the geographical belly button of France, lovers celebrate their day all year round. It is the only village in France to bear the name of the patron saint of les amoureux and it certainly does not let the fact go unnoticed.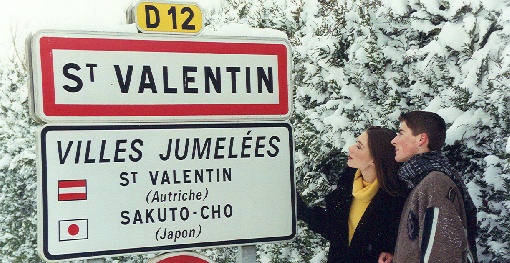 Ever since 1980, for the duration of the three day festival on February 13-15, the village goes into overdrive and fills it's streets to the brim with flowers. You can visit the chocolate makers at work, have your Valentine's card stamped with the official Saint-Valentin postmark and cap the day off with a really good meal at the dinner-dance fête. You can expect to come across quite a few long-haul visitors on special events as the village is twinned with its counterpart Sakuto-Cho in Japan.
And yes, you can even renew your vows at the Mairie (year round) with the conviction that St Valentin will be on your side, and a certificate to prove it.
Commercial? Possibly. Wholesome fun? Absolutely!
Find out more: Village Saint Valentin
Share to: Facebook Twitter LinkedIn Email
More in beach, events, festival, garden, land, romance, villages
---
---
Leave a reply
Your email address will not be published. Required fields are marked *